For a full listing of each season's events, please visit:
Event Updates: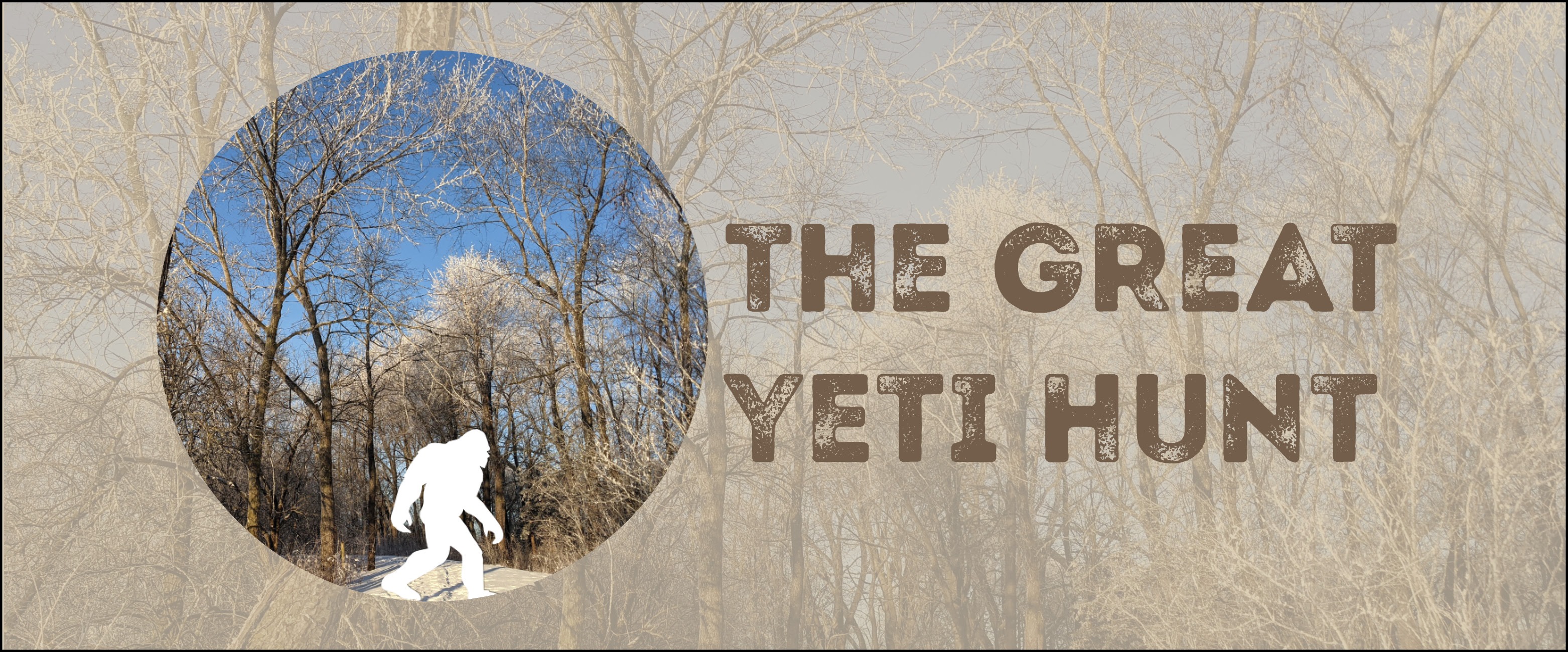 There's a yeti on the move, and she's roaming through Johnson County Conservation parks! Help us track her over the next two months!
Every 2-3 weeks, the yeti will show up somewhere new - but in classic yeti style, she only roams in the most wild places - places with few visitors and few trails. Anyone tracking her should be comfortable navigating and visiting more primitive park settings and hiking anywhere from 1-4 miles (sometimes off trail).
Whenever the yeti is spotted somewhere new, we'll help you find her by posting clues to her location on this event page. It'll be up to you to figure out what park she is at, then head out on a hike to find her. Use our collection of park guides to help piece together the clues: https://jccnaturenotes.wordpress.com/2020/05/07/how-and-where-to-explore-in-johnson-county-collected-guides-of-jcc-properties/
Anytime you find her, take a picture with her. Then send your photos with the yeti to [email protected] Anyone that finds her all four times will be entered into a drawing for a free night of camping at a JCC campground.
*Note: The yeti will stay in the same location for 2-3 weeks at a time. The dates she will appear somewhere new are:
Jan 10
Jan 30
Feb 20
Mar 13
The first clue (Jan 10-30)
Take a step back in time to the land of majestic oaks and wild fruit. You'll have to look left and right, off the beaten trail, towards the shaded heart of this geological gem. Make sure to take time to wander. Though small, the marshy views here are stunning.
Second clue (Jan 30 - Feb 20)
Hemmed in by eons of deposition and carving, in a saturated land, a stopover for long distance travelers, she waits watching ice breaks flow.
Access is trickier. In persistent warmth, plan your route and footwear carefully.
Third clue (Feb 21 - March 13)
Head south. Follow the call of the kingfisher. Then, take the trail that leads to the bay of a past beaver's bounty. From there, head upstream.
Fourth and Final clue (March 13-27)
Go to the circle of the first people's land, and sit at the overlook of the dammed. From here, take 110 paces at 140 degrees, where you'll find a valley long and deep. Follow it towards the sea and there she'll be.
Note: there are a few ways to tackle this one. Take the bearing, or solve it without. You can take a trail up until till the last little bit, or wander off trail most of your time here for extra fun. See her from a distance? That's cool - snap a pic and send it our way (bonus points for creatively getting her in the frame!).
Hot tip: watch the thorns, and don't wear your favorite puffy. Parking is messy everywhere right now - stay out of the mud and to the side (don't block building entrances)
You have just two weeks for this one - she's out of here March 27th. All photos due March 27, by 8:00 p.m. (send them to [email protected]). We'll draw a winner on the 28th.