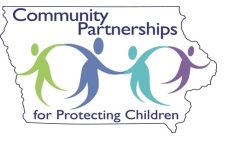 "Promoting positive home and community environments to encourage safe, healthy, and successful children and families."
The Johnson County Community Partnership is a state-wide initiative of the Department of Human Services. Both the State of Iowa and Johnson County provide critical financial support to implement our four core strategies to engage the community in the protection of children.
 
Our Four strategies are:
Neighborhood Networking
Family Team Meetings
Shared Decision Making Team
Policy and Practice Change
Click here to see a complete description of the four strategies
Reports & Plans
Mini Grants
The Johnson County Community Partnership is pleased to make funds available to provide Mini Grants to organizations and/or events that support our mission.
Click here to download the Mini Grant application. This form will be reviewed by the Shared Decision Making Team within 30 days of your submission and you will be contacted via phone or letter by Laurie Nash, Johnson County Social Services.
If awarded a Mini Grant, you will be asked to submit a short (one page) summary of funding impact, including (but not limited to) the number of youth and families involved in your project.
The following efforts have been supported by Community Partnership Mini Grants in the past:
Iowa City MLK Day of Service
Child Care Positive Behavior Intervention Supports – 4Cs
RVAP Stewards of Children preventing child sexual abuse training materials
A Gathering of Voices – Sankofa Outreach event
DVIP In Their Shoes curriculum for youth
Healthy LIfeStars Challenge at IC Compassion
Uniforms for Dream Divas at Jones Academy of Performing Arts
Culturally reflective/diverse early literacy materials for community distribution
Coralville Community Meal
Not A Box Parties in local parks
Complete Instructions and Application - PDF File
Mini-Grant Application Form Only - PDF File
Mini-Grant Reimbursement Request and Report - PDF File
W9 For Volunteers
If you have any questions about the application process for this Mini Grant, please do not hesitate to contact Laurie Nash at 319-356-6090 or email [email protected].

Links
More information on statewide Community Partnerships for Protecting Children is available by clicking here.

Follow us on Facebook: https://www.facebook.com/CPPCJC