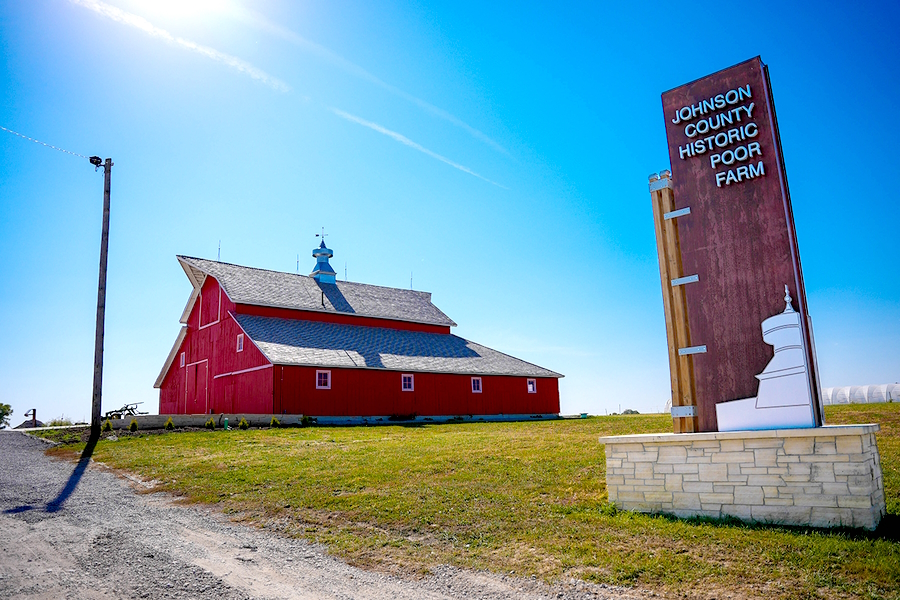 The 160-acre Johnson County Historic Poor Farm (JCHPF) is a historic site that was established in 1855 to care for and house individuals with diverse life experiences, consistent with the poor farm model that was seen in counties across the U.S. in the 19th century. Some examples of individuals who found themselves at the farm include people with disabilities, people with low wealth, elderly folks who did not have relatives to care for them, immigrants, widows, and orphans. The farm was a working farm that produced agricultural products to be consumed by residents or sold to customers. The county operated the JCHPF under the poor farm model until 1988. In the years after, the land was farmed privately and by nonprofits.
In 2016, the Johnson County Board of Supervisors hired HBK Engineering and Iowa Valley RC&D to conduct a Master Planning process that would provide a 10-year vision for the site. The concept of The New Century Farm was adopted as the vision for the farm. This concept prioritizes the preservation of historic farm structures, land access and education for beginning farmers, conservation, recreation, and education. Improvements to the farm include:
Rehabilitation of the Historic Buildings
Reconstructed Pollinator Meadow
Three Recreational Trails
Land Access Program for New Farmers
Community Food Production
Visit the Historic Poor Farm website to learn more about the farm's history, current programs, and how to get involved. 
Master Planning
Historic Poor Farm Master Plan Phase 1
Historic Poor Farm Master Plan Phase 2
For additional information, contact Ilsa DeWald, Local Food and Farm Manager, at [email protected] or 319-688-5840.