Upcoming or Recent Activities and Talks
Johnson County's Green Team usually offers two to four public events each year. Due to COVID, we have had to suspend our in-person programming. We hope to again offer these events once it is safe to do so. We have hosted a few online events
Did you miss the talk on Plastic Waste: Impacts and Ideas? You can watch it anytime now at  https://tinyurl.com/Plasticwaste2021
Hosted by Johnson County PDS and Green Team, "Plastic Waste" featured area waste and sustainability experts talking about environmental impacts, how and where plastics are processed, and what residents can do to have a positive impact at the local level. A question-and-answer session was included. Event presenters were Jane Wilch, recycling coordinator for the City of Iowa, and Blake Rupe and Beth MacKenzie, sustainability program managers for the University of Iowa Office of Sustainability and the Environment.
Past Programming
Past in-person events have included talks on electric vehicles, trails/bike sidepaths, beekeeping, electric vehicles, solar and wind power.
We also have hosted hands-on or interactive events on soil and water quality, air quality and safe medication disposal.
In 2021, we partnered with Linn County, Iowa City, Johnson Clean Energy District, Cedar Rapids and others to offer a "dual-county" solar group buy. Similar to the "Solarize" programs of 2018 and 2020; the 2021 program was led by the Midwest Renewable Energy Association (MREA). The 2021 program was called GrowSolar Linn + Johnson Counties, Solar group buys provide solar education to any who is interested and for those who want to take the next step-- affordable base pricing for residential or business solar. Participants saved even more as the group collectively reaches all purchasing thresholds. In 2012, all four prices breaks were reached.
Collectively, the three solar group buys provided education for more than 1,000 county residents and  249 properties added more than 1.6 kW of solar! There are no current plans for Johnson County to host another solar group buy in the near future. However, if your jurisdiction is interested in the program, you're welcome to contact [email protected] for information on how to get started and connect with MREA
Ongoing Programs and Resources
Wind Energy
Johnson County is a Small Wind Innovation Zone. Learn about the program's history.
Comprehensive Plan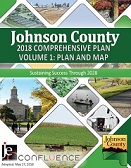 The Johnson County 2018 Comprehensive Plan includes an entire chapter on sustainability, and the topic is also interwoven into the other main sections of economic development, infrastructure and amenities, and land use.
Stormwater Management
The County ordinance requires stormwater management plans for major subdivisions and site plans to manage the effects on water quality and quantity. Learn more at Stormwater Management