Presentations and Talks
Johnson County's Green Team usually offers two to four public events each year. Due to COVID, we have had to suspend our in-person programming. We hope to again offer these events once it is safe to do so. We have hosted a few online events--please see below for the current Solar PowerHour programming through August 2021.
Past in-person events have included talks on electric vehicles, trails/bike sidepaths, beekeeping, electric vehicles, solar and wind power. We also have hosted hands-on or interactive events on soil and water quality, air quality and safe medication disposal.
Energy: Energy Efficiency and Solar

We are now partnering with Linn County, Iowa City, Johnson Clean Energy District, Cedar Rapids and others to offer a "dual-county" solar group buy. You may recall the "Solarize" programs of 2018 and 2020; known now as Grow Solar Linn + Johnson Counties, you can join in an online Solar Power Hour to learn about solar, and then get a free site assessment and quote for your own home, business or farm, if you wish. The program begins with affordable base pricing, and you can save even more as the group collectively reaches purchasing thresholds.
A special feature of the 2021 program is a partnership with Iowa City's Green Iowa AmeriCorps, which is offering energy efficiency tips. Homes may also qualify for their home energy kits. Learn more at the Grow Solar website.
Between the two previous Johnson County solar group buy programs, 221 residents added more than 1.4 kW of solar! Solar Power Hours will be offered through mid-August, and you have until August 31 to decide whether to get solar through the program.
Energy: Wind
Johnson County is a Small Wind Innovation Zone.
Comprehensive Plan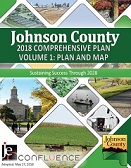 The Johnson County 2018 Comprehensive Plan includes an entire chapter on sustainability, and the topic is also interwoven into the other main sections of economic development, infrastructure and amenities, and land use.
Stormwater Management
The County ordinance requires stormwater management plans for major subdivisions and site plans to manage the effects on water quality and quantity. Learn more at Stormwater Management